Disposable skin sutures and staple removers
The product has simple and convenient operation, fast suture speed, easy alignment of the wound, shortening the operation time, reducing patient bleeding, improving the quality of suture
Disposable skin sutures and staple removers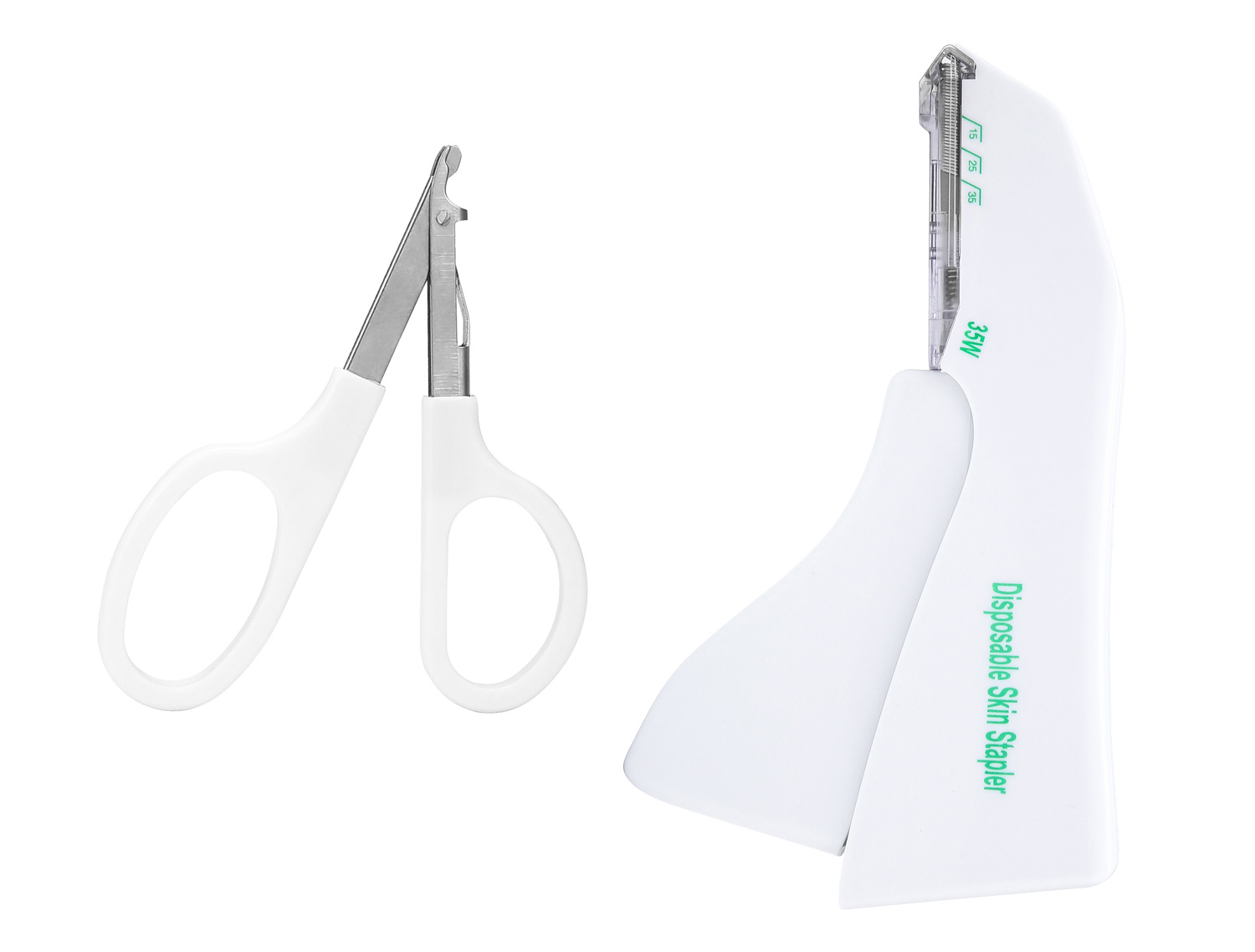 Characteristic
One-piece snap structure, more stable assembly quality, smooth nail out.

Quality is guaranteed. Reduced surgical suture time.

Using 316L medical stainless steel suture nail, suture nail forming stable

High tensile strength and stronger stitching.

The nail remover adopts stainless steel structure, high strength, easy and reliable to remove nails.

No pulling of the skin and less pain for the patient.
1、The product has simple and convenient operation, fast suture speed, easy alignment of the wound, shortening the operation time, reducing patient bleeding, improving the quality of suture
2、The product is sterilized by ethylene oxide, sterile packaging, safe to use; fully configured, easy to operate;
3, single-use, effectively avoid cross-infection in the hospital.
Application
This product is suitable for the human body wound andthe surgical incision surface skin surgery suture use.
Specifications
Type

Stitching and forming size(mm)

Number of staples

Staple material

FDJ-15W

7.4x4.0

15

Medical stainless steel

FDJ-15R

5.5x3.5

FDJ-15H

7.0x4.5

FDJ-25W

7.4x4.0

25

Medical stainless steel

FDJ-25R

5.5x3.5

FDJ-25H

7.0x4.5

FDJ-35W

7.4x4.0

35

Medical stainless steel

FDJ-35R

5.5x3.5

FDJ-35H

7.0x4.5
Welcome to leave a message
Our staff will contact you within 24 hours (working days). If you need other services, please call the service hotline:
15005279868
、
15949083883
Our staff will contact you within 24 hours (working days). If you need other services, please call the service hotline: